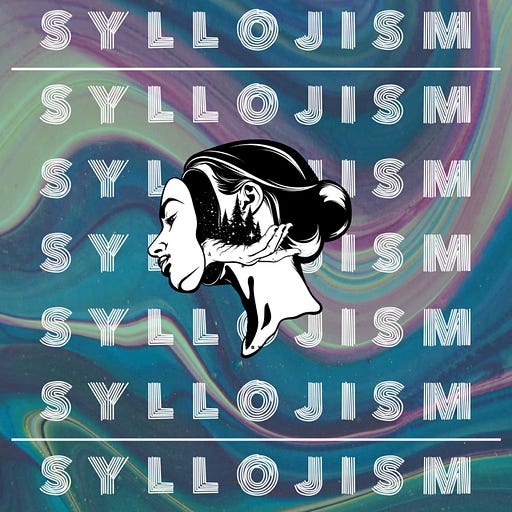 Dec 28, 2022 • 37M
Syllojism S2E9 - Kinesthetic Intelligence w/Skate Fantacee
The Rollerskating Renaissance
Appears in this episode
Syllojism is a bi-weekly, culture, and philosophy challenge podcast on the edge of chaos.
---
Disclaimer - The audio for this episode is in my opinion, unusable, but I didn't want to scrap the whole thing. I used Riverside as I have been since the summer, but something happened to the audio files on multiple levels. They were a mess, and we had to cut, paste, edit, compress, and turn down - it was awful. On top of Brett and I having almost no voice, and scheduling issues leaving us with <45 minutes to record. So, I apologize for whatever the hell was going on. Jonasz and I tried to salvage what we could of the audio. I asked my IG people what I should do and the majority said to put it out there - so here's the disclaimer.
CeCe AKA SkateFantacee was a doll. I've watched her skate on IG for a couple of years, so it was great to get to connect with her. I skate regularly, so the challenge was a bit unfair, and we were going to have a running component, but we both might have died considering that neither of us was breathing very well, so I have to give this challenge to Brett. While I probably have more physical strength than Bread, he clearly beat me in courage by wearing that psychedelic sweater to the rink that could have hypnotized the skaters behind him.
A little more about skating
Since the audio sucks so bad, I'll pay penance by giving you a little history. Lemme just say that dates and style definitions of rhythm skating are not super clear. I know almost nothing about this, despite skating quite often, and it was surprisingly hard to find information. It's all story-telling passed down at this point. I did find one book that was referenced multiple times. While it seems like music and dance have a somewhat clear historical account, skating is a sport and an art that combines both. Artistic styles are typically influenced by political, and cultural events and key people, and the same is true for skating.
For me, I just liked the feeling of skating. I didn't know shit about shit until … like today. I had my 4th or 5th birthday at Glenwood in Chicago, which apparently is the exact rink where "JB" or James Brown style was developed. My mom and aunt were killer on skates and loved all kinds of music and styles. I remember them doing the fox trot like it was nothing, and I never saw them practice. I didn't know what the style was, but it was different than skating in Indiana as a kid every now and then, and when I moved to Florida, there was a totally different style of skating which they called "Shuffle Skating". Oregon still had the damn organ and played it every Sunday.
Now, there's a whole taxonomy that I can't nail down from any consistent source, but what I can piece together is rollerskating evolved with music. The old school roller-dancing photos on the wall at Oaks Park in Oregon represent the earliest artistic style of skating, but as the music evolved, so did the culture. A lot of people still skate artistic, but what has become popular culture is known as rhythm skating. Under that umbrella, you have Jam skating, shuffle, and various other styles. Most of it seems to spread by word of mouth (or foot), and geographic locations based on popular music in those areas. It seems that people got tired of skating to organ music - shocking.
There's a whole vernacular to skating, of which I have been completely unaware. I never had friends who skated at the rink regularly, and I guess that's the way you learn. The girl I'm linked up with in my challenge video (Ashley) asked me if I wanted to "truck around" and I was like "wut". She meant just to skate around together in a synchronized way. SHRUG. SURE! The other girl in the video (I think her name is Suju) was telling me about how her boyfriend didn't like to "backpack". I nodded, listening intently as she went on to explain that a lot of people at the rink loved to backpack, so she'd do it with them. I looked around and thought, Damn, you wouldn't think skaters also liked backpacking. Then I realized we were talking about two different kinds of backpacking. She's talking about wearing someONE like a backpack. I'm dead. LMAO.
Dunbeezy's gives the most comprehensive overview of the history of rhythm skating that I've been able to find and Amirah Palmer wrote a book on The Evolution of Skating that I just added to my collection - just what I needed.
Some of the skate styles I just started learning about:
ATL Yeekology and ryde
D-Breeze talks about JB skating in Chicago
Cleveland shuffle and Freestyle jumps
Detroit sliding and footwork
NY/NJ/Uptop artistic influences
California seems like a melting pot of styles like Nashville.
Memphis seems like a giant party - probably the place I'd like to visit the most.
Again, sorry about the audio, but there's plenty here to dig into otherwise!
Video credit (sorry I don't know everyone's names!): Ashley, Zachariah, Christian, Clint, Karl, Suju? Not shown, but also helped me film and learn a few things: Fredrick Weathersby and Eddie
---
Show Notes
4:20 The empty field of sequenced movement a la the supplementary motor cortex
5:00 The "Not" thinking of physical intelligence
5:51 Regional differences in rhythm skating styles
7:37 Misconceptions about skating and total body coordination 
9:24 Brett's challenge
13:44 Emotion and physical movement
15:45 The social aspect of physicality
17:09 Natasha's challenge
21:02 The rollerskating renaissance
22:38 The tacit intuition of physicality
26:31 The rarity of modern social physical learning
27:37 How to avoid falling on skates
30:40 Musical/physical expression
31:44 Rhythm skating in black culture
33:01 Competition and collaboration
35:17 Cece's travels and World Rollout Day
---
Don't forget this month I'm offering 50% off to paid subscribers in celebration of TWO years of writing Theory Gang!
Next Challenge: To stir up a little existential intelligence, watch the 2019 Zizek/Peterson debate on Happiness: Capitalism vs Marxism.